Insured And Authorized Concrete Pavers Contractor In Bronx
Add prestige to your property and enhance its value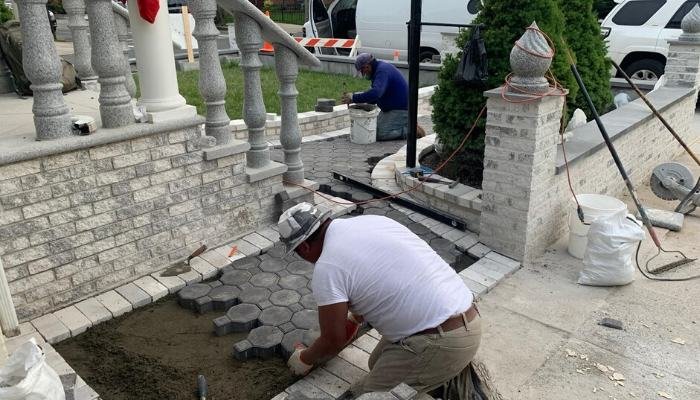 Your home is a place that not only signifies the elegance but also keeps you safe & relaxed. You should emphasize enhancing the beauty of indoors & outdoors using good materials & designs. Addition of concrete pavers is one of the best options to augment the luster of your outdoor space. NY Sidewalk Contractor is a certified concrete pavers company Bronx NY that can transform your home into heaven with its unmatched and high-quality concrete paver work.
Durable Concrete Paver Services In Bronx
Count on our unmatched expertise to decorate your outdoor living space
We can pull off any sort of residential and commercial pavers work with ease that will be insured and bonded. Concrete pavers look beautiful and make surroundings bewitching when laden with quality materials and bespoke designs. Aside from making your property jaw-droppingly attractive, it offers numerous benefits that make it a preferred choice by homeowners over the rest of the options. Be it for driveways, plazas, commercial entrances, or any industrial applications, concrete pavers are surging and have become an upward trend. We have proven experience in residential and commercial concrete paver that make the work durable and low maintenance.
Quality Concrete Pavers Solutions
Achieve a classic concrete look with best concrete paver professionals Bronx
Bronx concrete pavers at NY Sidewalk Contractor have been a consistent source of inspiration for millions that make your investment worthy and delightful experience. Over the years, our courteous and sought-after services have yielded the top-notch quality finished products. It is difficult to take eyes off beautifully designed concrete pavers that for years can continue to be a symbol of impression, sustaining the durability simultaneously.
You can come across several options for the outdoor choices but things like concrete pavers installed in the property are inexplicably compared. It is in simple words easy to install, cost-effective, durable, and most importantly soothes eye s every time you eye on it. Concrete pavers offer you the chance to make your home as per your taste and make the outdoor living space pleasant. Our professional specialists do all the pre-arrangements by preparing your ground so that concrete pavers do not get dislodged.
Give Your Outdoor Space An Eye Catching Look
Be proud of your investment and join the venture of trusted concrete paver Bronx
Our insured concrete pavers contractors in Bronx add a charm to your outdoor space, using its remarkable knowledge into execution. We provide a wide range of options in color, design, sizes, shapes, patterns, and texture to give your project an elegant finishing touch. Our professional way of installing concrete pavers is second to none which is evident from our systematic approach. We follow the mandatory steps to make your project alluring and durable.
NY Sidewalk Contractor at the onset do a thorough inspection from location to setting of pipes and water


Our soil engineers guide us while excavating the soil to the proper depth. To fortify the base, we determine the factors such as expansion and saturation of the soil and how much it can hold water. Also, we determine the foundation thickness along with excavation depth as each project is different and so does the soil.


After the grade is down to the level, we compact the subgrade before the geotextile fabric is installed.

We then install the base material and then compact the material using the compactor.


Installation of edge restraints is done followed by securing them with steel spikes to keep the edge restraints in place.


Setting bed is spread on the compacted base materials using concrete sand, granite sand, or other sands depending on the need.


Secure paver installation is done
Sweeping and compacting of the concrete paver is done and then compactor is used to fortify the paver surface.


Eventually, we seal the concrete pavers with color to protect it from staining.
If you are looking for affordable concrete paver contractors Bronx and want to transform the look of your house, then call us right away. We have solutions to meet your needs.