If you are looking for the walkway repair contractor in Brooklyn NY due to it's uneven or sunken, turn to NY Sidewalk Contractor, New York's reputed contractor. It is a well-known fact that according to NYC laws, owners of the property are fully responsible for maintaining walkways in good repair and keeping them free of dirt, ice, snow, and many more.
Damaged walkways present trip hazards and act as deformation for people arriving at the property. Repairing or replacing damaged as well as stained walkways may create a positive and stunning look for the building as a whole.  So, adding a new walkway is a great way to update your property appearance. If you hire right Bronx walkway repair services, they will execute a top-notch quality concrete path in the property.
Value of Walkways
Walkways are generally treated with disastrous salts in truculent, especially in winter. The walkway damage occurs due to abrasion, stains, and freeze-thaw damages.  We use top quality cement-based and micro-topping overlay techniques which will add an attractive finish to the existing concrete. Repaired or new walkways provide lots of benefits such as curb appeal, convenience, design, less pavement stress, safety, resale value, etc.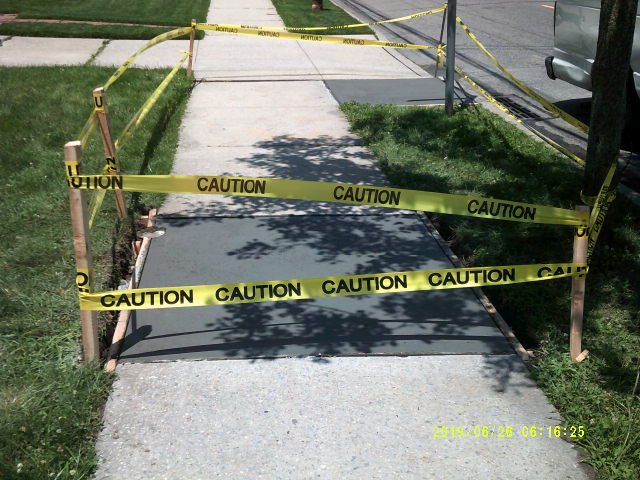 Professional and reliable walkway services in NY
At NY Sidewalk Contractor, we strive to provide you professional and reliable concrete walkway contractor Queens. It doesn't matter what you would like for the property, our contractor will work with you to ensure that you will be satisfied with our work.
Why choose Our Brooklyn Walkway Repair Service?
We are fully insured, bonded, and licensed

Trusted and reputed contractor company in New York

We provide the highest quality service

Our technical service is available 24/7

We use top quality material during walkways repairing

Trained and experienced contractors

We offer cost-effective as well as extraordinary walkway repair solutions

Respecting Our Promises

Believe In Original

Commitment
For your residential and commercial project, whether small or large, NY Sidewalk Contractor is ready to make you feel confident that you have chosen the right contractor company. Our team will not only improve the utility of your property but also improves its value and attractiveness.
Stunning Results within the Budget
When it comes to your walkways, having them repaired or replaced by a specialized NYC walkway repair contractor is a must. So, here we help you make the right decisions and get the stunning results within your budget. 
Our Brooklyn walkways contractors have the experience and expertise to maintain any project associated with the walkway repair services. The company's team offer a special perspective to all projects they handle. We are well-known throughout New York for offering reliable service and expert contractor to our customers. We always ready to provide our best service to keep our clients 100% satisfied.
Concrete walkways are a righteous investment for adding onto your property. So, these walkways are mixed with a natural stone material that means they need less maintenance. When you choose our walkways repair company Brooklyn for repair service, you will be relaxed. We work with the top quality materials and use advanced technology to offer the best concrete project all the time. Your super satisfaction is our main priority.
Upgrade Your Property with Top Quality Services
Our walkway professional team can each at your door to know your requirements. Are your walkways deciduous?  Is the walkway looking a little too shabby and cracked? If yes, then call us today. We have experience with all aspects of repair, maintenance as well as installations. So, contact us and talk to us about your project. Our team will get to work instantly with an expert contractor to give you an affordable walkway repair service.