The sidewalks act as an essential role in maintaining the complexity of any city, providing a vital connection with the neighbourhoods. We believe in authenticity of work and thus we have created us as the supreme leader in enchanting our clients as the sidewalk repair company in Queens NY. With the enduring art and quality specialization, our work is rectified for acknowledging as the leading sidewalks repair contractors in New York. We work to eliminate the hazardous risk factors for your loved ones. The broken and damaged sidewalks are risk-prone for humankind, which can create the chance of damaging the precious lives of the people. We understand this thought and thus work efficiently for you round the clock so that you can always count on us.
What Is Actually A Sidewalk?
Sidewalks generally are the paved pedestrian walkway at the side of the road. These walkways are generally used by the people to commute their walking distance to different places. Some people love to walk to their different destination or workplaces. Walking on these sidewalks somehow manages the walking fun of the people and always develops the healthy habit of walking. These walkways accommodate moderate changes with their heights to travel safe for the walking people.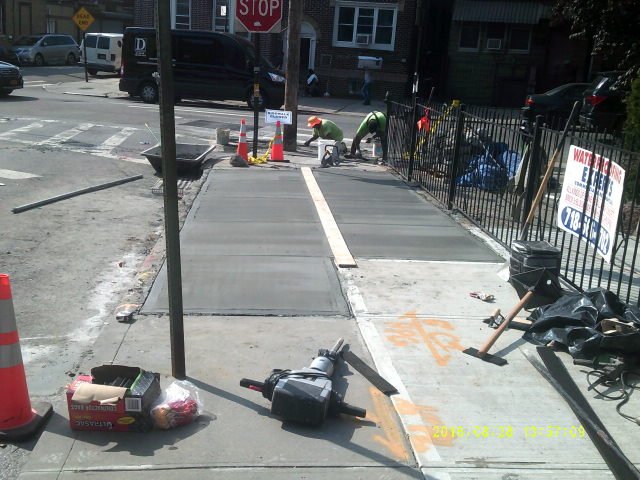 Why Work With NY Sidewalk Contractor?
As the mature workers in the construction arena, we are enchanting the tremendous growth of sidewalk repair in Queens.
We have marked our journey and being an integral part with tremendous growth for our fellow customers, our specialization has evolved as an aspect of providing in joining the life of the people.
We took of our every customer and put as our high priority cause it is a matter of lives of many people.
With the team of highly skilled craftsperson's who put their hard work to reach up to your maximum level of satisfaction.
Our company is the licensed sidewalk contractors in Queens with the severity of safety issues at each location preferable to you.
We Love To Craft Our Work For Our Clients
We love to do our work and makes our clients fully satisfied with our repair services at Dot Sidewalk Repair Queens. At our very affordable rates which can be easily being paid anyone, we have made the record of satisfying our clients for many years.
We Are Working At Extreme Affordable Prices
Our services don't cost too much, thus this is the reason which has created our superior number of clients from every part of the city. Depending on your space of work and its usability, we make sure to get concrete dry in the next 24 to 72 hours. Before it can be walked on we make it secure and checked with the manufacturer regarding its safety and cure time. Don't worry if received a violation notice regarding the walkway in your premises, we would love to help our every client to make them feel secure and safe from the prior notice.
Also from getting you rid of sidewalk violation removal in queens, we encourage different property owners who need to repair their walkways for the public safety. With the final words before closure, we request you to make a prior and wise decision before hiring any sidewalk repair company in Queens. Just take a deep breath because we are with you for 24*7.
Get To know Us
With the years of experience and trust we are providing the citizens remarkable experience in Queens sidewalks construction management.
For any query regarding the maintenance of your walkway you can always call or contact us at NY Sidewalk Repair. For the integral development and accurate action of your plan we always you. You don't have to worry if you have one of the precise team, who always stand by your side in repairing your walkway.